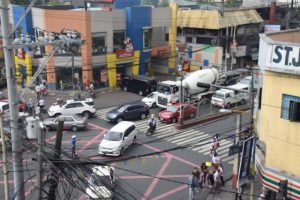 When we sit in traffic it is a blessing to see a traffic cop ahead.  The usual traffic light may be out or the traffic is too heavy making the light delay people instead of moving them.  It is an honor to obey the directions of the cop.
What if that cop is not there and traffic just sits?  What if that cop was sitting in his patrol car talking on his radio during that traffic jam?  It is a very sinking feeling indeed to know he could get out and direct traffic and he does not.
What about us when it comes to an opportunity to help another person through a situation?  We have everything necessary to point someone to Christ or comfort a fellow believer during their time of need.  Do we feel sorry for that person as we pass them by and say a quick prayer or do we give from our abundance to that person?
When God blesses us with good things or good news it makes no sense to hang on to it where it benefits nobody.  Hanging onto blessings doesn't even benefit us if we don't use them.  Our Lord blesses in order for us to have something to pass on.  Otherwise we become like the dead sea that cannot sustain any fish or plants.
The love of Jesus Christ is free, pass it on.  The blessings are great and the rewards are forever.
Matthew 5:14-16  New Living Translation
"You are the light of the world—like a city on a hilltop that cannot be hidden.  No one lights a lamp and then puts it under a basket.  Instead, a lamp is placed on a stand, where it gives light to everyone in the house.   In the same way, let your good deeds shine out for all to see, so that everyone will praise your heavenly Father.