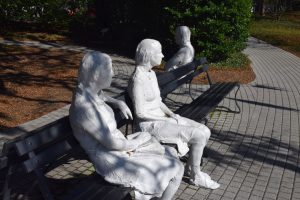 It's amazing that the loneliness hotlines become more jammed as the church pews become more empty.  The invention of cell phones and computer face to face devices create more loneliness than ever before.  Hugs and togetherness have been greatly hindered by internets, face times and cell phones.
Everywhere we go almost, we experience someone speaking loudly on a cell phone talking about things just to be talking.  Could it be this person is lonely?  Waiting rooms filled with people will usually have someone breaking the rules of no phone use.  It's as though they want the room to know they have something important going on even though it's offensive to the people around them.
There is a new device available for senior adults to use to help them connect with their loved ones.  They hold it with both hands and it creates face time with their children and grand kids but unfortunately there are no hugs.  Everything is virtual.  The loneliness epidemic is getting more wide spread.  The more technical the devices the more loneliness it creates because it completely eliminates personal and intimate time with other people.
There are times we need to spend alone praying and sorting things out with God.  It's important to have quiet times reading our Bibles and listening to God.  Time alone is productive.  Time being lonely is counterproductive.  The cure for loneliness is to get busy.  It's time to fill the church pews again and put aside the technical devices.  People are real with real feelings and real needs.  Only in person time with others can fill a void that loneliness creates.  Technical devices create only a deeper loneliness and a false hope when newer devices are bought.
Take time to pick up a phone and call someone where their voices are heard instead of texting.  Take a moment to stop by a loved one's house for a personal visit.  Nobody is too busy to be kind and these small acts of kindness will bring healing to lonely people.
It makes no sense that churches would have to close their doors for lack of interest when the need to be needed is spiraling out of control.  Numerous places need volunteers and has opportunities to communicate in person with other people.  God did not create us to isolate.  There is a place for us all to be used by God and being busy with others is the greatest cure for loneliness.  No pill or hotline can substitute for the basic face to face communication with other people.
Psalm 68:5-6  New International Version
A father to the fatherless, a defender of widows, is God in His holy dwelling.  God sets the lonely in families, He leads out the prisoners with singing; but the rebellious live in a sun-scorched land.