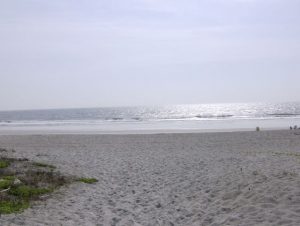 There was a man whom they called George.  George went on a cruise and he was in one of the best rooms on the ship.  During this cruise he enjoyed deep sea fishing, luxury dining and sunbathing at the ship's pool.  He enjoyed the looks he received from numerous beautiful women and the many handshakes he got from people in high positions.  George was also a VIP at a large corporation where numerous people considered it an honor to get to even say hello to him.
One evening just after a feast for supper George was in his room relaxing and almost ready to drift off into sleep.  Sirens suddenly started going off and ship officials knocked on every door even opening doors to make sure all rooms were empty.  George kept telling them to go away because he wanted to sleep.
Warning messages came from the captain of the ship instructing people to follow the procedure for putting on a life vest and to proceed to the assigned life boat.  George resented being disturbed and kept trying to go to sleep.  Once all the commotion stopped he noticed his room floor was ankle deep in water.  With a disgusted attitude he left his room and waded in water to the end of the hall to complain yet nobody was there.
As he continued to go upstairs to an upper part of the ship he found that he was the only one there.  George finally reached the launching area where the lifeboats were and noticed a couple of ship workers who were the last to leave the ship.  George ran toward the workers but they had just launched the life raft and were headed toward the rescuing ship.  He didn't know how to launch another lifeboat, nor did he see one.  He screamed as loudly as he could but nobody heard him.  There was no way he could swim to the rescuing ship.  George was going down with the ship.
This is true in our own lives.  The Bible speaks very clearly of warning signs to be observed and obeyed in order to keep on the right track and out of trouble.  There are many signs today that are a direct fulfillment of prophecy from long ago.  All these signs point to staying alert, keeping with what God wants us to do and being ready at all times.  Our Lord will be snatching us away when we least expect it yet very soon.  As luxurious as the world is today with all the technology and grandiose communication it could very well get our attention away from the most important thing.
2 Peter 3:10-11  New Living Translation
But the day of the Lord will come as unexpectedly as a thief. Then the heavens will pass away with a terrible noise, and the very elements themselves will disappear in fire, and the earth and everything on it will be found to deserve judgment.  Since everything around us is going to be destroyed like this, what holy and godly lives you should live.