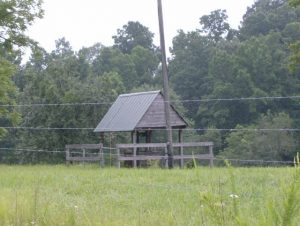 Professional well diggers know that the process is slow and steps must be taken along the way to prevent dirt from immediately filling back up the hole.  If one small neglect or one short cut is taken, the well will never happen.  Diggers know that the deepest wells produce the purest water so it's important they follow procedures.
We can consider ourselves diggers in life.  We strive daily for the living water that comes from Jesus Christ.  Unfortunately there is much dirt to dig through to uncover our true value.  There are old habits to dig away and misunderstandings that need true meanings.  As we get closer to the water we get moist dirt.  It is a guarantee we will lose certain friendships and have less desire for old ways as we get closer to the water.  The wetter the mud the closer we are to God.  Eventually the muddy clay will become muddy water as we draw closer to God and He to us.
Yes, there will be times in life we fall into temptation or make choices based on feel good topics; and yes, there will be cave ins along the way.  However God is along side us and in us to help patch things up so we can move ahead.  There will be times we will hit rock and can go no further but if we are truly pursuing the will of God, He will drill straight through the toughest rock.  As we already know, the purist of living water lies ahead for us on the day we see Christ in heaven.
Today we can experience the living water through salvation and obedience to God.  It is important to keep striving toward the will of God, and He will allow us to see and experience these living waters in a way we understand.  It's exciting to know that one day and for eternity our human eyes and understanding will be replaced by spiritual sight and understanding.  Living waters will be sparkling clear in a way we cannot describe and all people and things will be brand new.  What a glorious day it will be when we join our ancestors in the perfect presence of our Lord Jesus Christ.
1 John 5:4-5 New Living Translation (NLT)
For every child of God defeats this evil world, and we achieve this victory through our faith.  And who can win this battle against the world?  Only those who believe that Jesus is the Son of God.