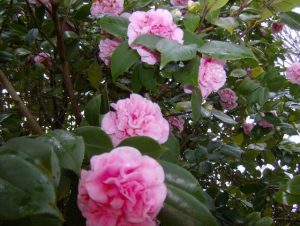 There are people who play a musical instrument very well while we struggle with notes.  There are people that are gifted at keeping a good conversation and at times they will take a conversation completely away from another person and us.  We listen to a pastor gifted in delivering soul winning sermons while we struggle to drop even a hint of Christ to another person.
Yes, conversation stealing is rude and it hurts people but we become aware that we are not very good at talking to people.  As a musician we may not get every note right or get used in a big way, but that doesn't make the pro musician a better person, especially if the pro gives no encouragement to an intermediate player.  We may get nervous trying to witness for Christ but that doesn't mean we are without purpose.
We all strive in this lifetime to get the much sought after words from our Lord which are, "Well done, My trusted servant."  God grants us certain desires to achieve things here but the avenues we seek to serve using our desires may be different from what God intends.  We tend to look at what's the most popular and the things others notice most.  Unless achieving these things bring attention to God it serves only our desires. 
It could very well be that God has called us to His Own Self.  He wants our attention.  While we do the things that come naturally to us, washing, ironing, cleaning, cooking, secretarial or vocations to earn a living God wants us to serve these tasks with gladness.  It is these type talents that we can devote ourselves with ease and joy.  These are the responsibilities He will increase as we do all things with gladness unto Him.  Does this mean He will forget that we want to win souls, keep good conversations or be a good musician?  Not at all.  After all, God gave us these desires. 
As we continue to serve with a gracious attitude in the small amounts we will realize one day that more opportunities are coming our way.  It's important to remember that serving for an audience is not always placing Christ at the center of our efforts.  There will be a day when the only audience we will see and know is Christ Himself.  He is worthy to be praised because we are being prepared just for Him.  There will be responsibilities in heaven and for eternity that will make even the greatest opportunity on earth fade like the moon does to the sun. 
God knows what He's doing and He has a plan for us.  As for today and right now, we are to serve in all things with gladness and keep a song in our hearts.
Matthew 25:21 New Living Translation (NLT)
The master was full of praise. 'Well done, my good and faithful servant. You have been faithful in handling this small amount, so now I will give you many more responsibilities. Let's celebrate together!'