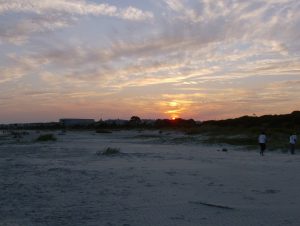 My my, what a selfish question but don't we all wonder sometimes if there is ever a reward for our efforts?  Many of us have thankless jobs that pay very little while others seem to get all the rewards.  Others of us speak out in defense when something is obviously not right only to be the one criticized and punished.
Sometimes many years pass by or even lifetimes with no vindication while evil seems to prosper in our faces.  It's as though we are doing without while others are getting all the rewards.  There becomes a time when we must realize that our reward comes from the heavenly realm.
While there are rewards here on earth we have all of eternity to look forward to.  The rewards that should have been a given while we are here are being stored in heaven where there are no flaws.  Nobody can take them away from us and the new never wears off.
God has not forgotten and His rewards are perfect and far greater than anything we can imagine here.
Luke 18:29-30  New Living Translation (NLT)
"Yes," Jesus replied, "and I assure you that everyone who has given up house or wife or brothers or parents or children, for the sake of the Kingdom of God, will be repaid many times over in this life, and will have eternal life in the world to come."