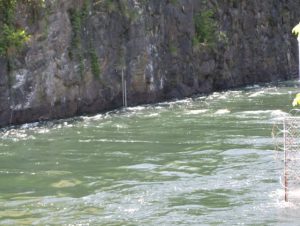 There are conversations that become so heated each person wants the last word.  Unfortunately the last word is only that; the last word.  What if these heated conversation are with friends?  Is it worth losing a friend over just to get the last word.  Even if the friend is obviously wrong for all to see and will not back down, it's time to love and leave the conversation.  The things that are right will come to light in due time.
Revenge does only one thing; creates two wrongs.  When it comes to being angry to the boiling point it's better to excuse oneself than to spew hatred with words that can never be taken back.
There are times when rules are broken and it is necessary to remind people of rules.  When pointing out errors, the repercussions can be horrifying.  People in the wrong are quick to defend their actions very loudly and will gather others to make a scene.  Sometimes these scenes can go on for days or weeks.  Vengeance will only make these people louder and more persistent.  The best retort is no retort.  Time will smooth the waters and God still remembers the incident.
It is the will of God to pray for these people and He will deal with them in due time.  When no retorts are made but prayers instead, God notices.  These type responses to misunderstandings are ones counted in heaven.
2 Corinthians 13:11  New Living Translation
Dear brothers and sisters, I close my letter with these last words: Be joyful. Grow to maturity. Encourage each other. Live in harmony and peace. Then the God of love and peace will be with you.