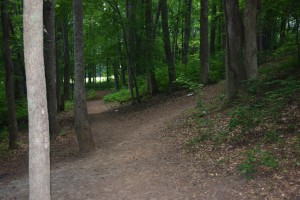 In life there are many options presented yet only one is God's perfect will.  When the road ahead has two paths that seem equally as good God is still directing our steps.  As we remain focused on Him and listen for His still voice where to place our foot for the next step, the path will become obvious.  God lights our path one step at a time and no further. 
Occasionally there will be a sense of desperation to choose immediately and God never places these type urgencies on His people.   These urgencies to choose right away could very well mean that neither path is the one God would have us walk.  As we rest in God's perfect assurance and submit to Him we will remain in a comfortable pattern of one step at a time, no matter what the road ahead looks like.  God is always on time and He keeps us safe.
Psalm 119:105
 Your word is a lamp to guide my feet and a light for my path.