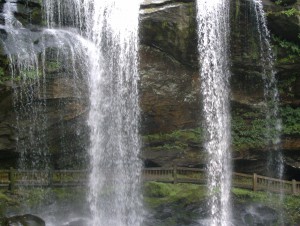 In our greatest weakness, Christ is the strongest.  Our weakness leaves more room for His strength.  Only an empty pot can be filled.  Only those who give room for God to work will see the results.
Those who have everything under control and leave no room for guidance from our Lord will sooner or later see an obstacle they will not know how to handle.
During our weakest points are the choicest times to trust God to fill us.  A song we learned as young children teaches a lesson that we can carry with us for life.
Jesus loves me—this I know,
For the Bible tells me so;
Little ones to Him belong—
They are weak, but He is strong.
Refrain
Yes, Jesus loves me!
Yes, Jesus loves me!
Yes, Jesus loves me!
The Bible tells me so.
2 Corinthians 13:4-5
For to be sure, He was crucified in weakness, yet He lives by God's power. Likewise, we are weak in Him, yet by God's power we will live with Him in our dealing with you.  Examine yourselves to see whether you are in the faith; test yourselves. Do you not realize that Christ Jesus is in you—unless, of course, you fail the test?