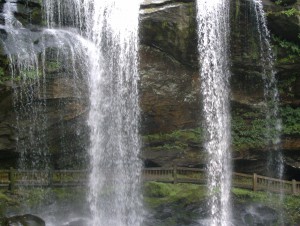 When someone you never expected picks up the phone and calls, or sends a card or even smiles, it is a big blessing.  It comes at a time when it is needed the most.  That person listened to God and warmed a heart.
To experience one blessing is to receive such a demonstration of love. 
To experience two blessings is to give such a demonstration of love.  To pass along an act of love is to please God and lift up another person too.  How exciting it is to see an enemy's anger turn into a smile.  There is hope in all things by showing a little love.  Jesus loves us no matter what, pass it on.
Matthew 5:44-48
 But I tell you, love your enemies and pray for those who persecute you,  that you may be children of your Father in heaven. He causes His sun to rise on the evil and the good, and sends rain on the righteous and the unrighteous.  If you love those who love you, what reward will you get?  Are not even the tax collectors doing that?   And if you greet only your own people, what are you doing more than others?  Do not even pagans do that?   Be perfect, therefore, as your heavenly Father is perfect.