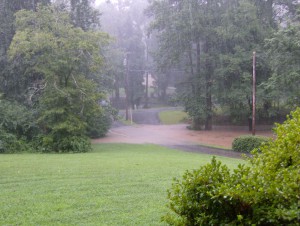 God's mightiest works are done during the darkest storms.  Grief, discouragement, brokenness, hopelessness and all other difficulties are God's greatest opportunities to show His hand.  When we do not see Him or feel Him we trust Him.  Faith pleases God and we know that during the times we cannot see Him it's because He is in the storm itself.  He prepares the way as we build our faith in Him.  Our greatest weaknesses are His greatest strengths.  There is nothing for Him to demonstrate if there are no storms.  God has plans in all things.
Psalm 107:28-30
 Then they cried out to the Lord in their trouble, and He brought them out of their distress.  He stilled the storm to a whisper; the waves of the sea were hushed.
 They were glad when it grew calm, and He guided them to their desired haven.