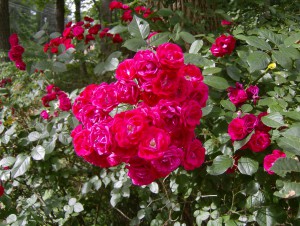 There are many people that others are drawn to.  Some have a way of making others laugh while some are physically attractive.  There are people who know how to make great speeches and others can charm people with words.  If these people care only about their own gain and what they can receive from others, it is a disappointment after taking the time to know them.
To the ones who spent many hours getting to know these attractive people and giving their heart, it is a very empty feeling.  These hours could have been spent with ones who would have been a much better steward of the attention given to them.  For the ones who present themselves as something greater than they are, there is an emptiness within them that can never be satisfied by any human.  To a person who entertains narcissism, it is a never ending void that continues to suck others dry of their love while offering nothing but an illusion.  These people are the loneliest of them all.
Only Jesus can fulfill a person totally.  No amount of beauty, talent, skill, craftsmanship or abilities can substitute for the love of Christ within.  If there is no love in the heart all of this will fade away.
The love of Jesus Christ is the answer to all things and fills all voids.  To genuinely care for someone else and their feelings and taking the time to understand will make love grow.  Jesus loved us first.  The love of Jesus is perfect.  As we pass along love it fills all voids because Jesus is love.
1 Corinthians 13:1-3
If I speak in the tongue of men or of angels, but do not have love, I am only a resounding gong or a clanging cymbal.  If I have the gift of prophecy and can fathom all mysteries and all knowledge, and if I have a faith that can move mountains, but do not have love, I am nothing. If I give all I possess to the poor and give over my body to hardship that I may boast, but do not have love, I gain nothing.