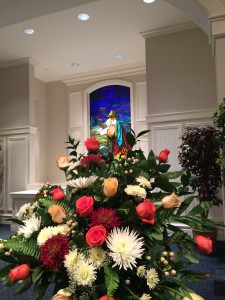 Jesus loves us when the answer to prayer is different than what is expected.  When praying, we often imagine the outcome which corresponds with our plans and goals.
There are many examples of answered prayer that come as a surprise.  A man wants a promotion to boss at his company and his best friend gets the promotion.  A daughter wants a healing for her mom and mom's healing is in heaven.  A young adult wants to marry a specific person and a new person comes along and steals his/her heart.
When we imagine the answer, we see things from a human point of view.  Many times what we want is what we feel is best for us to meet present desires. 
To trust God to send His answer is to trust in things greater than we can see or know.  The man wanting the promotion is promoted even higher than what he wanted but at a different company.  The healed mother is in a place too beautiful for words where her best day here doesn't even compare to her joy now.  To make things even better, God keeps her safe until that daughter arrives in heaven to see her in a fullness that cannot be explained.  The young person wanting to marry is sent another who is a lifelong companion where both work together to fulfill a special purpose for God.
To put trust and faith in God is to trade human values for divine purposes.  We may not understand at first but God reveals His purpose one step at a time.  God gives an illustration of a beautiful rose that unfolds one petal at a time.  The end result is worth waiting to see.
Psalm 32:8
I will instruct you (says the Lord) and guide you along the best pathway for your life; I will advise you and watch your progress.