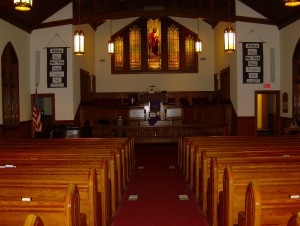 During special holidays it is hard not to miss someone who is no longer present.  People will always say the more a person loves the more it hurts when separation occurs. 
There is nothing more frustrating than to be told how to grieve.  Grief is a personal thing between God and a hurting person.  While some people stand over a grave and sob, others may stay away.  Some people get busy, others isolate.  There are people who even laugh because it's the only emotion that will happen for them.  There are some who can't stop talking about memories and others change the subject. 
These are times that are very intimate and personal with God.  God is the creator and Savior and He understands all things.  He loves in all things even grief.  Jesus Himself experienced the death of His friend Lazarus.  Even though Jesus knew the outcome would be glorious He still experienced the human emotion of losing such a good friend.
The only wrong way to grieve is not at all. 
There is assurance of an eternity with Jesus Christ.  As He holds beautiful loved ones in His bosom He provides comforting assurance of a reunion where there are no goodbyes.  Until that time He sends gentle reminders that He loves both the people with Him in heaven and here on earth.  He is the bridge that bonds together the people here and those that can no longer be seen with the human eye.
John 11:35-36
Jesus wept. Then the Jews said, "See how He loved him!"