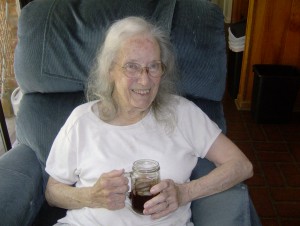 One of the toughest things in life that causes the most emotional pain is when a person you love no longer remembers your name.  Your loved one sits in her usual chair and has the same smile on her face.  She listens with a caring heart while you tell her about your day, yet her mind remembers very little.  Though her mind struggles to communicate her heart knows.
The most important thing is we still know and remember her.  Our usual visits still come on time to her because that's what love is all about.  Love is neither physical or emotional but acceptance of a person for where they are in live. 
As we walk through different phases in our lives, Jesus never forgets to remain with us at all times and with the same loving acceptance of us.  Growing in grace and learning to be more like Christ is to love another person unconditionally directing their focus to Christ Who never changes.  People may change and they may forget but God does not.  We can count on Him.
Revelation 1:8
"I am the Alpha and the Omega—the beginning and the end," says the Lord God. "I am the one Who is, Who always was, and Who is still to come—the Almighty One."