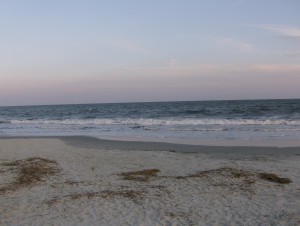 God created all things for a divine purpose.  When pondering great oceans, beautiful landscapes and even the talents of people, everything points to God.  There are people who become focused on the beauty all around and slowly drift from the Creator.  Others become focused on their own beauty which sometimes develops into a false insecurity of not measuring up to a standard. 
God makes no mistakes.  All people are created in His image for His Own purpose.
Keeping focused on the Creator and not so much the creation heals many emotions and gives a peace that passes all understanding.
All the beauty God created becomes even more beautiful when time is spent alone getting to know Him personally.  God is much more than the things He created.  He is Lord.
Isaiah 29:16
How foolish can you be?  He is the Potter, and He is certainly greater than you, the clay! Should the created thing say of the one who made it, "He didn't make me"?  Does a jar ever say, "The potter who made me is stupid"?