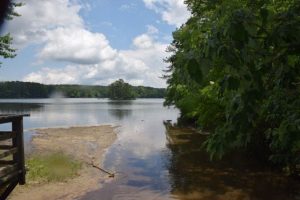 God has His Own beautiful ways of showing His presence to us.  Throughout the day sunbeams shine a brilliant light on all creation making all things clear.  There is no mistaken that only God can create beautiful wildlife, nature and streams.  When night falls we see His beautiful workmanship in the sky.  Every star is in place night after night.
Occasionally there will be storms of heavy rain and winds.  However it's during these storms God shows a special type of beauty.  When His light kisses the darkness of the storms He displays a beautiful rainbow that shows He is present in even the darkest storms.
There are times in our lives when things fall into place beautifully.  All appointments are made on time and traffic moves in our favor.  A raise happens on the job and we have favor with all the right people.  Even during times of being alone there is peace and reminders all around of God and His awesomeness.
Suddenly a storm comes.  It may be a heavy downpour of a sudden disaster or light spitting rain that goes on for days, months or even years.  The loss of a job, loved one or belongings through a major disaster is one of the darkest storms of life.  A family member or good friend who is on a destructive path in life continues to get worse year after year.  No matter how much we pray we see only discouragement and disappointment.
God notices all things and there will be a day when He will kiss our storms with His perfect ray of love.  We will notice something slightly different or someone will say the right thing at the right time to create a rainbow of hope in our hearts that God has everything in His perfect control.
Genesis 9:13-15  New Living Translation
I have placed My rainbow in the clouds. It is the sign of My covenant with you and with all the earth.  When I send clouds over the earth, the rainbow will appear in the clouds, and I will remember My covenant with you and with all living creatures. Never again will the floodwaters destroy all life.