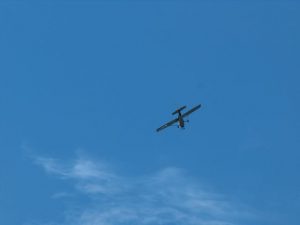 Every day people travel from one destination to another and the fastest method of travel is an airplane.  During the ride there are choices of things to do.  Depending on the length of the ride determines more choices.  There are movies, conversation with others, reading, walking around and eating.  Other choices include causing trouble or expressing anger in a variety of ways.
No matter what choices are made during that airplane ride it will still reach its destination on time, late or early.  Once off the plane the choices and atmosphere are much more abundant.
If an airplane ride is compared to time alive on earth it's easy to see a more realistic view.  Life on earth ends.  For some life ends early and others live a long time.  Either way life reaches its destination in heaven or hell and the destination is determined by choices here.  What people do with the time on earth is the determining factor for the upcoming destination.  Careers, attitudes toward others and other ways time is spent is important and no moment should be wasted.  Love given toward others and prayer is the most important thing one person can do.  These acts of kindness bring recognition to God.  Accepting God's love and salvation through Jesus Christ means He will return that recognition in heaven forever.
1 Corinthians 10:31  New International Version
So whether you eat or drink or whatever you do, do it all for the glory of God.