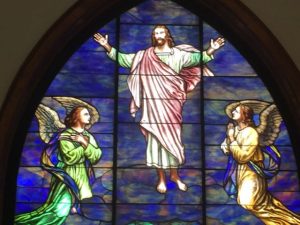 At times we just barely think about wanting God to work something out and the answer is almost immediate.  It is more than what we expect and greater than anything we can imagine.  Other times we pray for years and see no evidence of the slightest change but that doesn't mean God isn't working.
The longer we wait, the more time God has to pack extra blessings into His answer.  If it's a person headed on a wrong path, it could be we experience harshness and anger from that person.  When God starts to deal with a hard heart we can expect a retort from that person.  Nobody wants to be exposed but we can be encouraged that God is working when we start getting attitudes.
God always knows what He is doing and He knew before the beginning of time what today would bring to us.  As we walk through these long waiting periods we can be comforted knowing God is waiting along with us. 
As for grief when we know our loved ones are in heaven and we are left alone, God stands with us and at the right time He will open heaven to us.  With Him will be the ones we miss.  All people will be pain free and have bodies that radiate His love.  The Bible speaks of heaven not needing sunshine because the Son shines through all things in a brilliant way.  Even the Apostle Paul could not put into human words what he saw during his brief encounter with heaven.
As we wait on God in any situation we can be assured that the beauty to come is very much worth the time spent looking forward to His answer.
Isaiah 64:4 New Living Translation (NLT)
For since the world began, no ear has heard and no eye has seen a God like You, Who works for those who wait for Him!