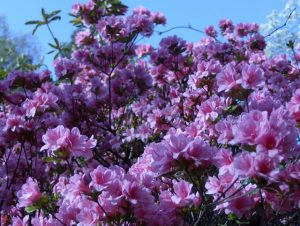 It's easy to see nature's beauty in the spring time.  Everything is brand new with fresh blossoms and brilliant colors.  Only a few days later the flowers shrivel and die leaving a brownish coating on the tender leaves.
Unfortunately this is all a lot of people see or understand.  With God it is always pressing on to higher things.  It's true that spring time comes and goes in a hurry but what about summer leaves and autumn beauty.  Winter offers a time of erasing old things that have served its purpose to prepare for another spring.
Life offers many opportunities to serve God.  There are short term mission trips, opportunities to teach, witness and learn.  Even though these opportunities come and go it is never the end.  It's always time to grow into the likeness of Christ.  Even though things come to an end there are always new beginnings to those who press on.  God's beauty is in all things because He has a purpose for all things.
Ecclesiastes 3:11  Living Bible
Everything is appropriate in its own time. But though God has planted eternity in the hearts of men, even so, many cannot see the whole scope of God's work from beginning to end.