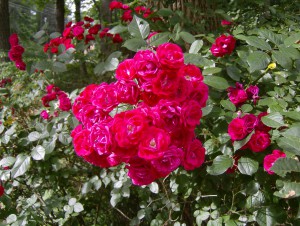 It's amazing how the church pews are filled after a major disaster.  People will volunteer for all types of ministries and will help others.  As time progresses the pews slowly become empty again.  People begin to get involved in their own activities thinking everything is ok.
What would happen if Jesus took the same attitude.  The Bible speaks of Jesus praying numerous times.  After He healed many people He would go off alone to pray.  He had to keep replenishing His spirit in order to have more to give out.  Jesus is a blessing everywhere He goes but prayer keeps the blessings coming.
Being blessed with material things, popularity and a great job does not excuse that person from praying.  God is the one Who blesses.  To never pray or pick up the Bible when being blessed richly is like not acknowledging the giver of the gift.
If it was us who gave gifts, prayed for people, loved, gave a shoulder to cry on, listened and understood only to be ignored, how would we feel?  Replenishing has to come from somewhere or there will eventually be nothing left to give.
Luke 5:16
But Jesus often withdrew to the wilderness for prayer.