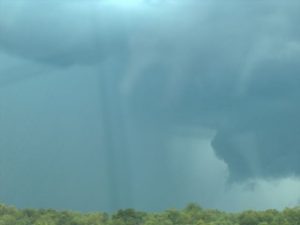 Have you ever noticed that whenever things work out beautifully here comes bad news?  It's almost like an imp is sitting at the door of every opening God has made for you.
You pray many years for a particular job opening and it becomes open.  The person who interviews you is not the person who knows your work habits but instead someone you don't know.  You give your best presentation at the interview but learn later a candidate was preselected and your interview was only to meet a quota of applicants.
Another obstacle is the type of thing happens with salesmen.  You spend all day working up the best price possible for a bid and your bid was twice the price of the winning bid.  Later you learn that your bid was a formality to meet a quota and the winner was preselected.  The winner also had perks for pricing that you did not have.  You also lost opportunities to sell to others while being tied up in this formality.
What if you are a musician?  You spend many years practicing but there are never any openings for you to perform.  When there is finally an opening you learn the conductor is one for whom has always created obstacles for you to advance as a musician.  The conductor despises you and never gives a reason.  Anywhere you place your name for a possible opening somehow this same conductor's name comes up because he is a well known.
You are wondering if it's time to give up.  Do you trade all your desires, efforts and dreams in on a lifetime of your second choice?  What do you do when your heart says yes but the people in charge of everything have blackballed you?
I'm sure by now you are thinking that the answer is too complicated for words but God's answer is always the same.  Trust Me.  God gave you your dreams and desires for a reason and that is He wants to use you in the areas that reach people who enjoy the same things as you do.  It could be that your divine purpose of reaching people is not meant to be for those particular employers or groups.  It could be that the sales you lost trying to win a bid is God's warning to avoid these type of binds in the future or even to pray against the darkness that surrounds poor business practices.  Prayer opens up all of heaven to allow God's workmanship to come upon the object of your prayers.
Do you think it's possible God would have you teach others music so that many can achieve your dream?  Sometimes it's not what you achieve but what others achieve because of you.  These are the type of treasures that are stored up for you in heaven to enjoy for an eternity.  God has not forgotten you and God has not forgotten the dishonesty done toward you.
It's time to focus on God, His will and His purpose for you.  When you take time to know God through prayer and studying His word you will be amazed at the things that unfold.  Opportunities will become available that will be the natural thing to do.  When obstacles come and you rebuke them the door opens even wider.  When it's God's time it will work out beautifully, otherwise He is moving you to a better opportunity.
Luke 10:41-42  New Living Translation
But the Lord said to her, "My dear Martha, you are worried and upset over all these details!  There is only one thing worth being concerned about. Mary has discovered it, and it will not be taken away from her."