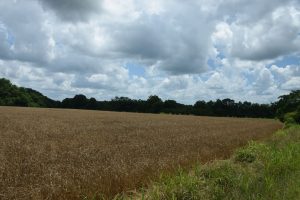 Clouds come in many shapes, sizes and shades each having its own purpose.  When we see the white puffy clouds with brilliant blue all around and brightness we can't help but to feel encouraged.  The warmth on our backs and cool breezes makes it easy to want to get things done.  Even the hardest of times in our lives bring hope because we see the light of beauty that comes from the sunshine.
There are clouds that block more of the sunshine.  Some form what we refer to as a buttermilk sky where numerous small puffy clouds blanket the sky but the beauty still points to heaven.  Only God could create such a marvelous display with the moistures that collect in the sky.  It's interesting that the more clouds in the sky, the more we can look up.
Other times clouds form streaks or crystallites showing things above are cold.  Even with these cloud formations we can see the workmanship of God's hand.  He displays His best even on the coldest days for us to see.
Lastly are the storm clouds.  When the moisture gets to be too much for the clouds to handle they will cry rain.  They will sometimes rant and rave with flashes of lightening and loud booms of thunder.  These types of rebellions in the clouds bring out the emotions in all of us.  Whether we find protection from the winds and rains or even drive long distances to seek sunshine after many days of rain we are really searching for the peace of the sunshine again.  However the rainclouds are the ones that bring attention to the radiant sunbeams that peep through or the promised rainbow as rays of light hit the ending rain.
In all things God shows His hand.  No matter what phase or season of life our spiritual clouds are taking us through God is with us.  He shows us ways to continue to show His light through us for others to see.  No matter our season in life others walk through the same seasons.  While we walk through seasons of peace we can show encouragements to others who are in the opposite season.  When we walk through the rainy times in life we can still offer smiles to others as a ray of sunshine because we never know when another person's rainy times are worse than ours.
Our answer is always in Christ and He is always reason to look up.  While we look up, He reaches down.  He never leaves us.
Matthew 5:16  Living Bible
Don't hide your light!  Let it shine for all; let your good deeds glow for all to see, so that they will praise your heavenly Father.