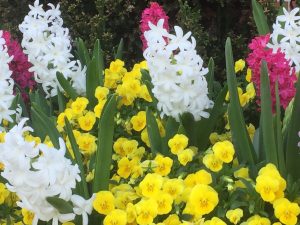 There is an old saying that states "When things get tough the tough get going."  While there is some truth in this statement the word tough can mean a lot of things.  People trained for military purposes go through harsh rituals learning to endure all types of hardships without showing any emotions.  As a result, these men and women can assist others during a crisis.
Nature has its own way of showing us benefits.  Grapes and olives are brutally crushed but they provide juices, wine and oil that we cannot live without.  Wheat is ground up to make flower.  Taffy is pulled to make soft candy. 
There are spiritual hardships creating a need to cry out to God.  The loss of a parent or child leaving a shocking void is a crisis too hard to bear.  There are no words that can take away that emptiness.  There is such a shock even prayer seems to bounce off the ceiling.  It's times like this the spotlight is on us.  Our family, friends, coworkers and even strangers watch and wonder what we will do.  Our tears show that we love that person.  Our thankfulness toward those who pray for us show that we appreciate.  Our attention to God for comfort and answers show that we place our trust in Him.
People watch our reactions to these hardships that come our way.  Do our responses represent Christ?  Sometimes our greatest witness comes from how we represent Christ during the hardest of circumstances.  Our Lord will comfort and He will reward all we do for Him.
Galatians 5:22-25  New American Standard Bible
But the fruit of the Spirit is love, joy, peace, patience, kindness, goodness, faithfulness, gentleness, self-control; against such things there is no law.  Now those who belong to Christ Jesus have crucified the flesh with its passions and desires.
If we live by the Spirit, let us also walk by the Spirit.