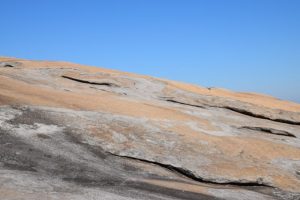 There are times in each of our lives when we have our hearts set on a particular dream only to watch it fizzle out.  The feeling we have of hopelessness can be compared to that of falling into a well.
We are looking up to see the light but the more we try to push ourselves up the more dirt falls in around us.   Our friends pray for us giving hope they can help us out in some way.  People come around and dig a second shaft hoping to tunnel across to reach us and pull us up that way.  Just about the time we feel they can reach us and prayers are answered both the rescue shaft and the well cave in leaving us buried.
What a horrible feeling it is when there is nothing else we can do but lay our dream aside.  Suddenly a person remembers a mining cave close by the well.  Just one tug on our foot and we are pulled into the cave where we can walk out easily to the light.  No digging required.  The door is open for us to easily walk out.
When all efforts fail then God intervenes in an unexpected way.  Many times God does not require efforts but only to trust.  He will come through in ways we do not expect.  He will send answers where we are not looking.  Hope is never lost when we place our trust in God.
Romans 15:13  New International Version
May the God of hope fill you with all joy and peace as you trust in Him, so that you may overflow with hope by the power of the Holy Spirit.