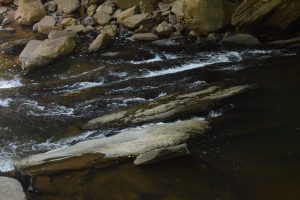 Have you ever experienced the behavior of a child after he has disobeyed you?  He will get extremely quiet around you or avoid you altogether.  Another action is that of super kindness which is out of character for him.  You know he is hiding something from you and you probably already know what he did.  The longer you say nothing the worse he feels inside.
It's the same with you when you know you shouldn't but you go ahead anyway.  The feeling of guilt eats you up inside.  The longer you go without confessing the more steps you need to take to come up with excuses to your own self for why you had to do it.
Like the child it becomes harder to face the people or situation you wronged.  The real person you are avoiding is yourself and how you feel betrayed by your own lack of self control. 
Finally one day you just break.  You come to God in prayer and tell him everything from the feeling inside that made you do it to the feeling you have now.  The very second you make such a confession in prayer it's like an instant healing.  The weight of a two ton truck has been lifted from your spirit and your relationship with Christ is all that much stronger.
Psalm 32:1-4 New Living Translation
Oh, what joy for those whose disobedience is forgiven, whose sin is put out of sight!  Yes, what joy for those whose record the Lord has cleared of guilt, whose lives are lived in complete honesty!  When I refused to confess my sin, my body wasted away, and I groaned all day long. Day and night Your hand of discipline was heavy on me.  My strength evaporated like water in the summer heat.