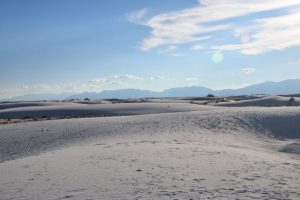 From the very beginning God created something from nothing.  The deeper the darkness the greater the light.  The greater the void the more He can fill.
Even the very first words of the Bible speak of God and His greatness.  There is nothing too hard for Him. 
We are living many generations later and God still creates.  When we have times of emptiness and void in our lives where nothing seems to work out, God speaks.  He will fill what is impossible for us to fill. 
There are many times our situations are so complex that it would take many days to explain everything yet God already knows.  It's amazing that His answer to even the most difficult problems is always the same.  Trust Me.  Only two words but powerful indeed.
Genesis 1:1-3  New Living Translation
In the beginning God created the heavens and the earth.  The earth was formless and empty, and darkness covered the deep waters.  And the Spirit of God was hovering over the surface of the waters.  Then God said, "Let there be light," and there was light.