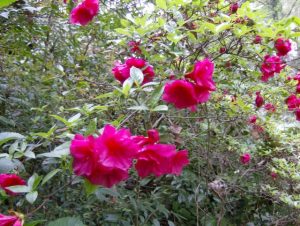 FADED COLORS OF HARDSHIPS
Many are the afflictions of the righteous but God delivers us out of them ALL.  Before the beginning of time God knew each day of our lives and the blessings and troubles to come.  Each hardship is replaced with a heavenly solution from the throne room of God.  In order to receive the solution we must trust.  That's all, just trust in God.
For each hardship that strikes leaving us feeling as dark as pitch, God sends His heavenly moonlight where we can place our focus.  For each red alert emergency in life God sends a beautiful red rose representing peace that rises above a stem of thorns.  For each time we are blue from sadness where things do not work out He sends a cloudless blue sky that allows warm sunshine.  When the storms of life are too many to count and too strong to sort out He sends a rainbow of colorful promises and hope.
When we seek God in all situations He will be found.  He surrounds us in His own beauty when we wear His robe of protection.
Job 38:14
As the light approaches, the earth takes shape like clay pressed beneath a seal;    it is robed in brilliant colors.