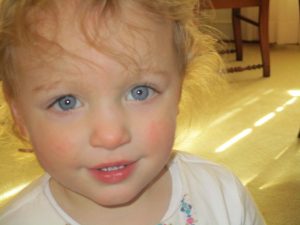 One of the greatest examples of faith is a happy child.  There are no worries where the next meal comes from or what to wear.  Everything is supplied by loving parents.  A child is protected from harm and occasionally a quick "no" is necessary to train a child to use good judgement next time.  There is a lot of comfort and trust placed in loving parents.
When we place our faith in God we are to consider the examples of a happy child.  God supplies everything we need and circumstances should never cause a wrinkled brow or the wringing of hands.  It's not about getting upset and worried when things do not go right but it's how we do not worry when the focus is on God.  God is true to His word at all times and He honors faith.  He supplies all our needs even in the midst of the greatest of circumstances.
Matthew 18:1-4  New Living Translation
About that time the disciples came to Jesus and asked, "Who is greatest in the Kingdom of Heaven?"  Jesus called a little child to Him and put the child among them.  Then He said, "I tell you the truth, unless you turn from your sins and become like little children, you will never get into the Kingdom of Heaven.  So anyone who becomes as humble as this little child is the greatest in the Kingdom of Heaven.