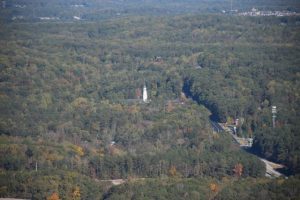 Today we enjoy a universe of God's beautiful creation.  Even though we were not here when it was created we see the results of God's mighty hand and know that no man could create such beauty.  This very fact is evidence that we can have faith in God for all things.  Faith is the confidence that what we hope for will actually happen; it gives us assurance about things we cannot see.
Noah listened to God and built an ark even though he saw no rain.  The people of Israel walked across the Red Sea on dry ground.  The woman touching the hem of Jesus' robe was healed.  All these things were accomplished through faith in Jesus Christ and not their own ideas.
As we pray for things that come up in life it's normal to ask God to bring us through or deliver us out of.  We want to see obstacles disappear, loved ones come to Christ and hardships not be there.
Jesus intercedes for us at the right hand of our Father.  He prays for us.  What may surprise us is how Jesus prays.  Jesus prays that our faith will not fail, not that the obstacles go away or things will fall into place.  Yes, Jesus still performs miracles, instantly heals the sick and works things out at the proper time.  However, it's the obstacle or the hardship that grows faith.  Faith is what pleases God. 
Jesus gave a warning to Peter just before He went to the cross that the devil came and asked for permission to sift him like wheat.  Jesus also said He prayed for Peter.  As for us, the devil always has to get permission to send certain things our way but these are the things we use as tools to grow our faith.  One of the choicest tools of the devil is the wait time for answered prayer.  We can praise God for the opportunity to grow our faith in the school of adversity.  The answer will come.  God will not disgrace anyone who trusts Him to act.
Luke 22:31-32  New Living Translation
"Simon, Simon, Satan has asked to sift each of you like wheat.  But I have pleaded in prayer for you, Simon, that your faith should not fail. So when you have repented and turned to me again, strengthen your brothers."