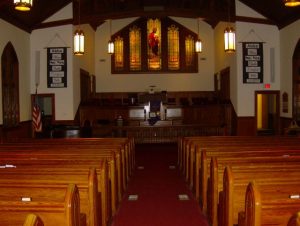 There are times we encounter an angry person.  His words are harsh and insulting.  The look on his face is like a stop sign meaning to stay away.  He dislikes everybody.
Other people we approach are angry for the moment.  They are angry at a situation or angry at us for saying the wrong thing at the wrong time.
Neither of these type people are secure in their heart.  They have been disappointed or hurt previously in life and live a defensive lifestyle.  Chances are they have no clue what they are defending. 
Prayer and a polite smile and maybe even a wave will eventually soften their hearts and win their trust.  It may take a while but with God all things are possible.
There are times we will encounter a flare up of an angry person and wonder what to do when it happens.  The answer is simple yet the hardest to do.
This angry person is shouting at the top of his lungs calling us everything but human but we are to stand firm.  Maintain eye contact which is a characteristic of strength and say nothing.  While listening to their harshness it is important to make an effort to discern past the words and feel what they may be going through.  Just our silence and listening ear alone will disarm them.  As they come to a close and we say a polite thank you they will not know what to do with that.  If we ask if there is anything else they would like to add, especially if we maintain eye contact and a pleasant attitude, it will put the whole encounter back on them.  They are forced to listen to their own words which many times is humbling to them.
Proverbs 15:1  New Living Translation
A gentle answer deflects anger, but harsh words make tempers flare.