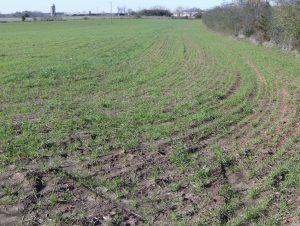 The Bible often makes references to dust and soil.  Adam was formed from dust.  Jesus said one day our bodies will return to the dust.  One of Jesus' finest parables speaks of seeds that fall on different types of soil.  It makes sense to think of ourselves as an area of soil ready to hear and understand His divine instructions.
There are rains and storms in life that are very rough on us.  During these storms we have a decision to make.  Do we use these storms as a tiller to prepare for God's choicest seeds or do we harden our attitudes making it impossible for a seed to even be planted?
Hard knocks in life happen to us and the harder the knock the deeper the trench made in our heart.  The deeper the trench the closer God can get to our innermost being.  While it's true that some hardships in life leave a lingering hurt it's what we do with these hurts that matter. 
Is there a person who is experiencing similar to what we are going through?  Do we offer to pray for that person or do we join in a complaint session?  One response leads to prepared ground ready for a seed and the other response leads to a hard rocky response that will not produce anything.
God makes up to us anything we sacrifice to Him.  Job, one of God's best servants, lost crops, family and friends.  During his grief were certain friends who were no help at all.  He never cursed God and God restored twice everything he lost.  He will do the same for us.  As we endure these trials we remain focused on Him and the things He would have us do.  He will see to it blessings come our way.
Hebrews 6:7-8  New Living Translation
When the ground soaks up the falling rain and bears a good crop for the farmer, it has God's blessing.  But if a field bears thorns and thistles, it is useless. The farmer will soon condemn that field and burn it.