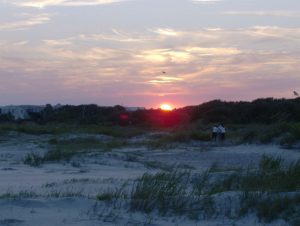 There is a great demonstration given to us by God on how to follow Christ.  The sunflower always faces the sun.  In the evening the sunflower turns back to face east awaiting the sun to rise in the morning.  As the earth slowly turns causing the sun to become higher in the sky then lowering on the horizon each day, the sunflower continually maneuvers to face the sun.  Each moment of sunshine is maximized by the sunflower and even during the waiting period at night it is preparing to meet the sun once again.
Another amazing thing about the sunflower is the fact that it does not need quality soil to thrive.  It gets replenished by the sun.  A simple activity of a plain sunflower gives a prime example of how we are to follow Christ.
Our circumstances do not have to be ideal.  The path we walk can be smooth one moment and the next moment it is full of rocks that trip us up.  The weather can be cold one day and the next blistering hot.  Friends can stick closer than a brother for a time then other times we cannot find a friend when we need one.  Promises are made by one person and another person takes away the promise before it even happens.  No matter what, the Son still shines.
God never changes and His promises never fail.  Circumstances and promises by people do not compare to the unending love of Jesus Christ.  As we follow God and as we remain fully focused on Him and obedient to His calling nothing compares.  His love fills us to the point that these rocky places in our lives are low on our priority.  Our thoughts are on things that are pure, true and right.  The love of Jesus Christ will see to it that the things that take our focus from Him are removed.
John 14:15  New Living Translation
If you love Me, obey, My commandments.