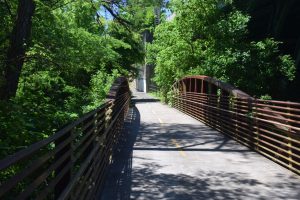 There are times we are in a situation for so long that we don't know what to do apart from that situation.  Day after day, month after month, year after year we suffer under the hand of a cruel boss or a friend who continues to let us down.  We become used to that type of treatment.  We pray to God for guidance and for opportunities away from these situations yet we find ourselves right back where we started from.  Sometimes it's all we have ever known so we find somewhat of a comfort zone since we know the daily outcome.
When Christ sets us free we are invited to allow Him to take over.  We no longer see with the human eye what is to come next and it's easy to go back to the bondage where we see.  Trusting God means to trust for the unknown and unseen.  Many times when we leave our comfort zones we are faced with a lot of obstacles like the people of Egypt under Moses' guidance.
It's not the obstacles where we are to place our trust, it is the outcome of each obstacle.  These outcomes point to Christ.  Without obstacles there would be no witness to the things God can do.  It is for this reason that hardships faced after first being saved are to jumpstart our faith and our trust.  We can choose to go back to bondage or we can choose to place our trust in the things unseen and watch God work.
Growing in grace is a daily process.  We are always a work in progress and God never gives up on us.
Ephesians 3:12   Living Bible
Now we can come fearlessly right into God's presence, assured of His glad welcome when we come with Christ and trust in Him.