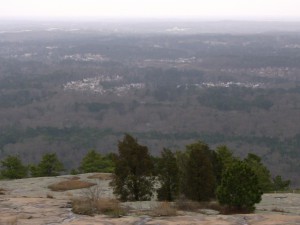 It takes no faith at all to look back at the good old days.  When the Israelites left with Moses God provided miracle after miracle.  He did not promise an easy journey but a safe one.  They were provided manna for free, guidance with a cloud and fire, a tabernacle and shoes that never wore out.  When they focused on the country they left or the things they did not have it provoked God's anger.
In today's age when focus is on the things we do not have instead of the things we do, God is not first and we come out from under His protection.  God's protection is not on the enemy but instead on His people.  Giving thanks for the things God has done for us puts the focus back on the will of God.  It prevents us from becoming angry and discouraged.  God Inhabits the praises of His people.
Philippians 2:14-16a
 Do everything without grumbling or arguing,  so that you may become blameless and pure, children of God without fault in a warped and crooked generation.  Then you will shine among them like stars in the sky as you hold firmly to the word of life.