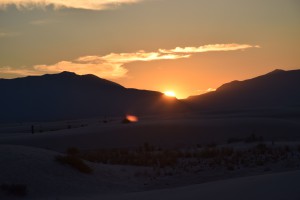 Wars and rumors of wars are happening.  Uncertain job markets and no guarantee of having a job the next day are realities to a lot of people.  Marriages and trusting relationships for many are a passing thing leaving behind a gut wrenching void where love is taken away.  The truth is rarely told making people unsure of what is exactly honest.  All these things lead to doubt.
These are a few examples of reality leaving many to wonder if God exists.  Yes, God exists in a beautiful and mighty way.  In 2 Corinthians 12:4, The Apostle Paul expressed heaven like this: "I was caught up to paradise and heard things so astounding that they cannot be expressed in words, things no human is allowed to tell."  If it is too beautiful and amazing to explain then imagine spending an eternity in the presence of God.
One way to keep from doubting the beauty that is yet to come is to look at a sunset.  Explain that beauty along with all the colors and feelings to a blind person who has never seen.  The more we try to explain, the more we realize there is more to it than anything we can understand. 
Romans 1:20
For ever since the world was created, people have seen the earth and sky. Through everything God made, they can clearly see His invisible qualities—His eternal power and divine nature. So they have no excuse for not knowing God.