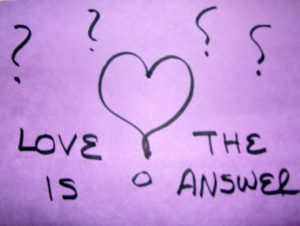 We may not understand why God answers some prayers like He does but all answers are in love.  When we pray, the flood gates of heaven open up and attention is poured out onto the object of our prayers.
When praying for stubborn people, sometimes their response is more stubbornness.  Nobody likes to be broken so they rebel.  Rebellion as a result of prayer is a sure sign that prayers are working.
There are times we pray for a stubborn person and suddenly that person becomes nice.  There is no doubt God has opened their heart and they were ready to receive.
No matter what the results are to prayer, God's answers are always sent in His love. 
Life is full of question marks.  We want to know why God allows things, when He will answer and how He will answer.  When two question marks are placed side by side in opposite directions it forms a heart.  That is how God answers all prayers.  The point of the heart is aimed at the point of our situations that God will handle.  In all things, God loves us.
1 John 5:14-15
And this is the confidence that we have toward Him, that if we ask anything according to His will he hears us. And if we know that He hears us in whatever we ask, we know that we have the requests that we have asked of Him.