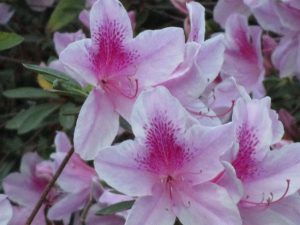 Have you ever prayed for something and instead of things improving they got worse?  You pray for a part in the school play and you get a different role than what you expect.  You trust God for a high paying job in a large corporation and you get a low paying job at another company.  You believe God for an individual to know Christ and this individual's behavior becomes worse instead of better.
Does this mean that God is saying no?  Not necessarily.  Many times He prepares you and/or the people involved to receive the answer you have asked of God.  He answers prayers according to His will and purpose and it takes time to prepare you emotionally, intellectually and spiritually to see His big picture.  Therefore He has answered you but the manifestation of the way you dreamed of is not what you get.  As time progresses and you continue to believe it's very likely your viewpoint and desires will change.  Your relationship with Jesus Christ grows and you have a better understanding of the things involved in when and how God's answers are brought to you.
The important thing is to allow your endurance and patience to grow during the waiting and learning process so you will be ready when His divine answer is brought to you.
1 John 5:14 New American Standard Bible
This is the confidence which we have before Him, that, if we ask anything according to His will, He hears us.