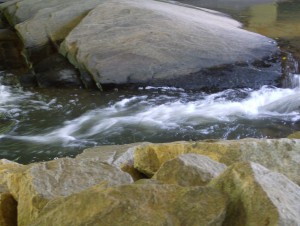 When the wait for answered prayer is long and all signs seem to point to the opposite of the truth, that's when we put our trust in God.  Waiting is a reminder that we are not in control but God.  It is reason to give praise because our perfect God has taken our concerns into His loving arms and He is in full control, not us.  We sometimes do not understand but He does.
During the wait we get to know Him.  We grow into His likeness and show love to one another.
The wait is never wasted as long as our focus is on Him.  He has a work to be done in and through us.  A friend said things beautifully long ago: occupy while waiting. 
KNOW
GROW
SHOW
During this time others can know Jesus Christ, His love, His attention and His care through what He does in our lives. 
Psalm 40:1-3
 I waited patiently for the Lord to help me,
    and He turned to me and heard my cry.
 He lifted me out of the pit of despair,
    out of the mud and the mire.
He set my feet on solid ground
    and steadied me as I walked along.
 He has given me a new song to sing,
    a hymn of praise to our God.
Many will see what He has done and be amazed.
    They will put their trust in the Lord.