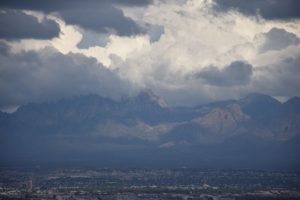 There are numerous ways God speaks even during times we feel He isn't listening.  He speaks to us in peace when we sit still beside a soft running brook.  Sometimes when we read our Bibles a particular sentence will suddenly have a deeper meaning.  Other times our dreams will reveal things God is trying to show us.
It seems like God is far away during a crisis, but it could be the crisis is God's way of demonstrating His plans to recreate a harsh circumstance to make things better.  There are people who have experienced an audible voice that only they could hear.  When we look at the night sky and see the multitudes of stars God is letting us know His stability and His omnipresence.  Even in rainy periods that seem to never end we can know He is replenishing a dry earth.
We can hear His strength and glory in the claps of thunder and bolts of lightning popping on the earth.
In the Old Testament God's voice was so majestic that people couldn't bear to hear it so Moses listened on behalf of the people.  We can hear a small sample of that voice in the thunderstorms and know that He is always Lord and He can be trusted in all things.
Job 37:2-5 New American Standard Bible
Listen closely to the thunder of His voice, And the rumbling that goes out from His mouth. Under the whole heaven He lets it loose, And His lightning to the ends of the earth.  After it, a voice roars; He thunders with His majestic voice, And He does not restrain the lightnings when His voice is heard.  God thunders with His voice wondrously; Doing great things which we cannot comprehend.