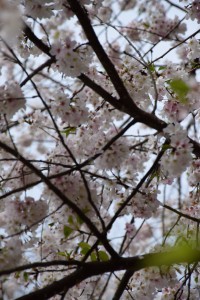 Our Lord provides us with many beautiful things here on earth.  When we multiply that by millions we can't even imagine the beauty that lasts forever.  The most beautiful thing is the love God places in our hearts that radiates from the heart outwards.  This beauty never fades but only grows brighter and stronger as He chips away at all that does not please Him.
The chipping and pruning is never fun as we learn harsh realities about our own selves.  However as we exchange old habits for new there is a peace that passes all understanding.
Outward beauty here on earth is very temporary just as a spring tree.  As the beauty fades, the full purpose is revealed.  Jesus loves us so much that He will groom us to be beautiful from within outward as the earthly beauty fades.
1 Peter 3:3-4
 Don't be concerned about the outward beauty of fancy hairstyles, expensive jewelry, or beautiful clothes.  You should clothe yourselves instead with the beauty that comes from within, the unfading beauty of a gentle and quiet spirit, which is so precious to God.