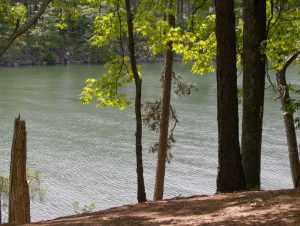 Trees go through times of floods and droughts.  If a tree's roots are firmly planted deeply in fertile soil it continues to produce spring blooms and summer shade.  If this same tree is planted on a sloped section of hard land, all water runs off and the tree eventually dies.
We are similar to the example of a tree.  Where do we place our trust?  Worldly attractions have no spiritual substance so our trust in certain achievements will eventually lead to disappointments.
When we place our trust in God and the love He bestows on us, even the darkest times will not defeat us.  As we walk through dry times in life where nothing seems to fall into place we put our focus on even the smallest blessings.  We wake up; blessing.  We walk and talk; blessing.  Someone calls us on the phone or gives us a smile; blessing.  These are ways to search deep for encouragement during these long droughts in life.
It is important to cling to the things that are true and everlasting.  These blessings of love keep the smiles on our faces and strengthen our faith in God Who loves us enough to give His life up for us.  God continually takes note of our attitudes during hardships and His loving blessings are in abundance waiting to be poured out at His timing.
Jeremiah 17:7-8  New Living Translation
"But blessed are those who trust in the Lord and have made the Lord their hope and confidence. They are like trees planted along a riverbank, with roots that reach deep into the water. Such trees are not bothered by the heat or worried by long months of drought. Their leaves stay green, and they never stop producing fruit.