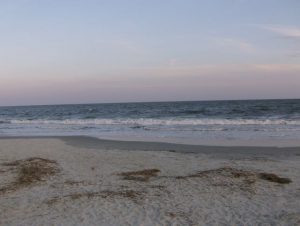 God is too great for our eyes to see yet He arranges for us to see Him through the things He makes.  His love is bigger than anything we can possibly understand so He comes in human form in Jesus Christ to demonstrate for us.  His voice is too beautiful for our ears to hear so He speaks gently through the ocean waves or singing birds.
When His love for us is that great, we can trust Him to understand our struggles while on the journey of life.  He is forever present and He will send signs along the way that He is still by our side.  Nothing is too big that God cannot handle and nothing is too small that He doesn't care.
We are the clay and He is the potter.  The end result is in His glorious purpose.  He knows every scrape, pounding, squeeze, spin and things removed from our lives because He is doing the molding.  He understands.  He loves us.  We are continually in His loving embrace.
Job 9:9-11
He made all the stars—the Bear and Orion,
    the Pleiades and the constellations of the southern sky.
He does great things too marvelous to understand.
    He performs countless miracles.
"Yet when He comes near, I cannot see him.
    When He moves by, I do not see Him go.