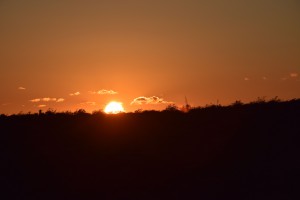 The most beautiful lamp will not shine unless it is plugged in.  The most brilliant chandelier will not be seen unless it is displayed. 
There is power in the Word of God.  Time spent alone with God allows Him to reveal Himself in ways we never thought.  There is strength in the love of our Lord.  As His exciting ways are revealed it is understandable that we want to know more.  The more God reveals the more we become like Him and the more others will notice a difference and will want to know Christ too.
Jesus gives a beautiful example of the vine and the branches.  The sap that is in the vine is the same sap that flows into each branch.
John 15:4-5
Remain in Me, and I will remain in you. For a branch cannot produce fruit if it is severed from the vine, and you cannot be fruitful unless you remain in Me."Yes, I am the vine; you are the branches. Those who remain in Me, and I in them, will produce much fruit. For apart from Me you can do nothing.