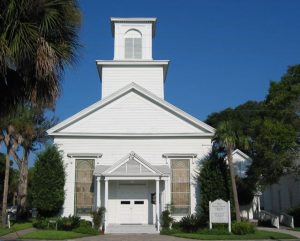 The word of God is the only thing that stands the test of time.  People let people down.  Mighty ships sometimes sink.  The earth erodes.
A historical church built in the 1800s that still stands is a gentle reminder that the truth and love of Jesus Christ has existed before the world was created.  God's word can be counted upon in all things.  He never changes.  He is an anchor that keeps things in reach.  He is a rock that supports great weights.  He is immovable .  He is trustworthy.  He is love.
Psalm 33:4-5
For the word of the Lord is right and true; He is faithful in all He does.
The Lord loves righteousness and justice; the earth is full of His unfailing love.