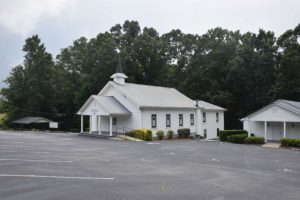 In the Old Testament the throne of God was represented by the Ark of the Covenant.  It was made of wood and gold yet nobody except the high priest could even look at it but once a year.  It isn't the gold or wood it was made of nor the stone tablets in the ark, Aaron's rod or the jar of manna that made this Ark sacred.  It was the divine power and protection of God Himself.  The Ark of the Covenant was made as a result of God's specific instructions and His glorious presence filled the temple.
Today, through Jesus Christ, we invite Jesus to live in our hearts.  The more we know about Him through time spent alone with Him, the more we realize His divine protection of us.  When we obey His specific instructions it's proof we love Him and trust Him. 
Knowing His divine power protected a wooden box laced with gold plus the contents in the Ark, it's understandable that He would protect us when He lives in our hearts.  There is nothing to fear when we stand amazed in His presence at all times.  Jesus is Lord in all things.
Job 26:12-14 Living Bible
And by His power the sea grows calm; He is skilled at crushing its pride!  The heavens are made beautiful by His Spirit; He pierces the swiftly gliding serpent.  "These are some of the minor things He does, merely a whisper of His power.  Who then can withstand his thunder?"