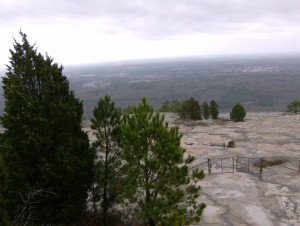 It is deceiving when people build these large expensive homes, have yachts, own an extra beach house and drive expensive cars.  Many times their incomes are no greater than ours yet we wonder how they afford all that.  They have many friends and entertain people who have positions of power.  It's hard not to notice their towering empires of wealth and popularity.  However, one calamity such as a past due notice or a person in power turning on them will ruin everything.  Truth happens sooner or later.
There are people who invest wisely, even though it is a small amount.  They buy only what they can afford and never have a debt bigger than what they can actually pay.  There are no bill collectors calling and they never have to worry about trying to please a prominent person.  Peace is with these people.
It is the same with relationships with our Lord Jesus Christ.  There are prideful, egotistical people who flourish giving no thought to their Lord Who created them.  Also there are people who continually seek the ways of God.
Tragedies in life happen to all people.  With no exceptions all people experience the loss of family or friends through death.  People move away or grow apart.  Wealth fails.  Jobs are lost or unfair treatment happens.  The worst tragedy is the situation that lingers on and on with no sight of any type of a resolution.  To those who have invested their time wisely listening to the priceless instructions of God and remaining in His presence will be cared for.  To others, it is a serious wake up call.
Draw close to God and He will draw close to us.  With God, even the greatest trials become opportunities to see His glorious hand at work.
Matthew 7:24-27
 "Therefore everyone who hears these words of Mine and puts them into practice is like a wise man who built his house on the rock.  The rain came down, the streams rose, and the winds blew and beat against that house; yet it did not fall, because it had its foundation on the Rock.  But everyone who hears these words of Mine and does not put them into practice is like a foolish man who built his house on sand.  The rain came down, the streams rose, and the winds blew and beat against that house, and it fell with a great crash."