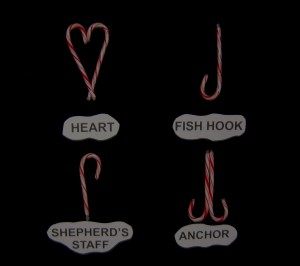 When we seek the Lord we will find Him.  As we grow into His likeness we learn to recognize His voice.  He speaks to our hearts from His heart in the way of gentle reminders day by day.
The Christmas candy cane is something many of us look forward to each year.  The beauty of the striped candy cane add a nice enhancement to a Christmas tree.  Many people use a candy cane to tape to the outside of a gift or card to create additional excitement to the one receiving the card or gift.  Some people even use them to make a creative center piece for a holiday table.  The uses are numerous.  There is a deeper meaning if we look beyond the every day uses of these candy canes.
Most come striped in red and white which represents the blood of Jesus Christ that was shed in order to wash our sins whiter than snow.
They can be arranged in different ways to represent things that have been explained in the Bible.  The heart is a reminder of the love of Jesus Christ and the way we should treat one another.  The cane with the loop at the top is a great representation of a shepherd' staff where Jesus is the great Shepherd who leads us.  The cane with the loop at the bottom resembles a fish hook where we have been instructed to be fishers of men by spreading the gospel.  The double loop at the bottom is similar to that of an anchor.  If we are anchored in the word by reading the Bible God will continue to make us able to withstand stronger obstacles in life.
Jesus is Lord in all things and as we look closer for Him we can feel His presence at all times.
Romans 11:36  New Living Translation
For everything comes from Him and exists by His power and is intended for His glory. All glory to Him forever! Amen.