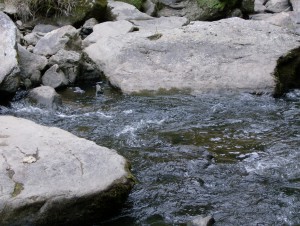 In God's storehouse of blessings are comfort, peace, assurance, encouragement, healing, forgiveness and mercy.  As we walk through trials, and some can be almost unbearable, God has the perfect blessing picked out just for us.
Trials develop strength and endurance.  Trials are not pleasant, especially ones that seem to never end.  People will sometimes say keep the faith, things will turn out ok when they have no clue.  Trials can sometimes double in size when we turn to one who gives an impression of being loving, kind and having great knowledge of our Lord and he turns us away.  Sometimes the bigger the impressions and the louder the words are the greatest disappointments when confronted with reality.
The most overlooked person when choosing one to understand is the one who has had many trials and disappointments.  To seek comfort in one who has walked many rocky paths is to gain peace and comfort plus an awesome understanding that cannot be explained in words. 
Our loving God Who understands all things will send blessings greater than any trial just by trusting Him.  As we walk through these trials we can know a blessing of comfort will follow.  These blessings are far greater than anything we can imagine.
2 Corinthians 1:3-5
 What a wonderful God we have—He is the Father of our Lord Jesus Christ, the source of every mercy, and the One who so wonderfully comforts and strengthens us in our hardships and trials. And why does He do this? So that when others are troubled, needing our sympathy and encouragement, we can pass on to them this same help and comfort God has given us.  You can be sure that the more we undergo sufferings for Christ, the more He will shower us with his comfort and encouragement.