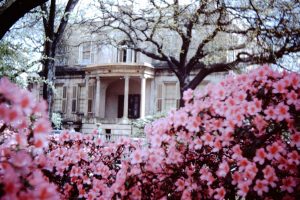 Together we walk with Christ, hand in hand.  We are on this earth for a short time in order to serve God's purpose.
As we come across one of life's many obstacles Christ is with us seeing everything from a heavenly perspective.  As we focus more on Christ and His ways of growing past these obstacles we too, can see things more like He sees them.
There will be a day when He will make this world brand new and the heavens too.  The day will come when we will have an eternity the way God intends for it to be.  Everything will be in order and there is a place for glorious service for each of us.
These are the things to focus on while we are here.  Christ is with us every step of the way and no tear falls without His knowledge and understanding.  It is not until we look up that we can look down on our situations and see things from God's perspective.  He will see us through all things.
Colossians 3:1-3  New Living Translation
Since you have been raised to new life with Christ, set your sights on the realities of heaven, where Christ sits in the place of honor at God's right hand.  Think about the things of heaven, not the things of earth.  For you died to this life, and your real life is hidden with Christ in God.